Gilder Center - Permanent Exhibition Development

Environmental Graphics, Graphic Design, Art Direction, Research
Client: American Museum of Natural History





Slated to open in 2022, the Richard Gilder Center for Science, Education and Innovation is the new wing
of the museum featuring an expansive Insectarium, Vivarium, and four floors of collections, allowing

visitors to peek behind the scenes. I took the loose architectural layouts drawn by the architects, and I tightened the typography, art, and photography to define the style of the hall.




Entry

The entry hall introduces guests to the amazing world of insects through infographics and beautiful macro photography by photographer Levon Biss.


Panels with similar information greet visitors entering from the other entrance.


Sections
Elevation of two of many of the Northern Walls. Each section contains many stories and interactives to educate visitors about the complexities of the world of insects. I developed the type and imagery styles used throughout the hall.
Tree of Life


One of the earliest and biggest challenges was figuring out how to create a cladogram (a type of diagram mapping the evolutionary branching of organisms) correctly showing the evolution of insects, starting from the very first organisms. The original prototype was scientifically incorrect, so I spent a lot of time trying to "reinvent" the traditional cladogram model in order to display life-sized, preserved specimens .
Test 1: Organizing the branches around a series of semi circles. Unfortunately, it was not scientifically correct.
Test 2: Revised branching structure. Technically correct placement, but the design implied that Hemoptera specimens are a direct evolution from Eukaryotes.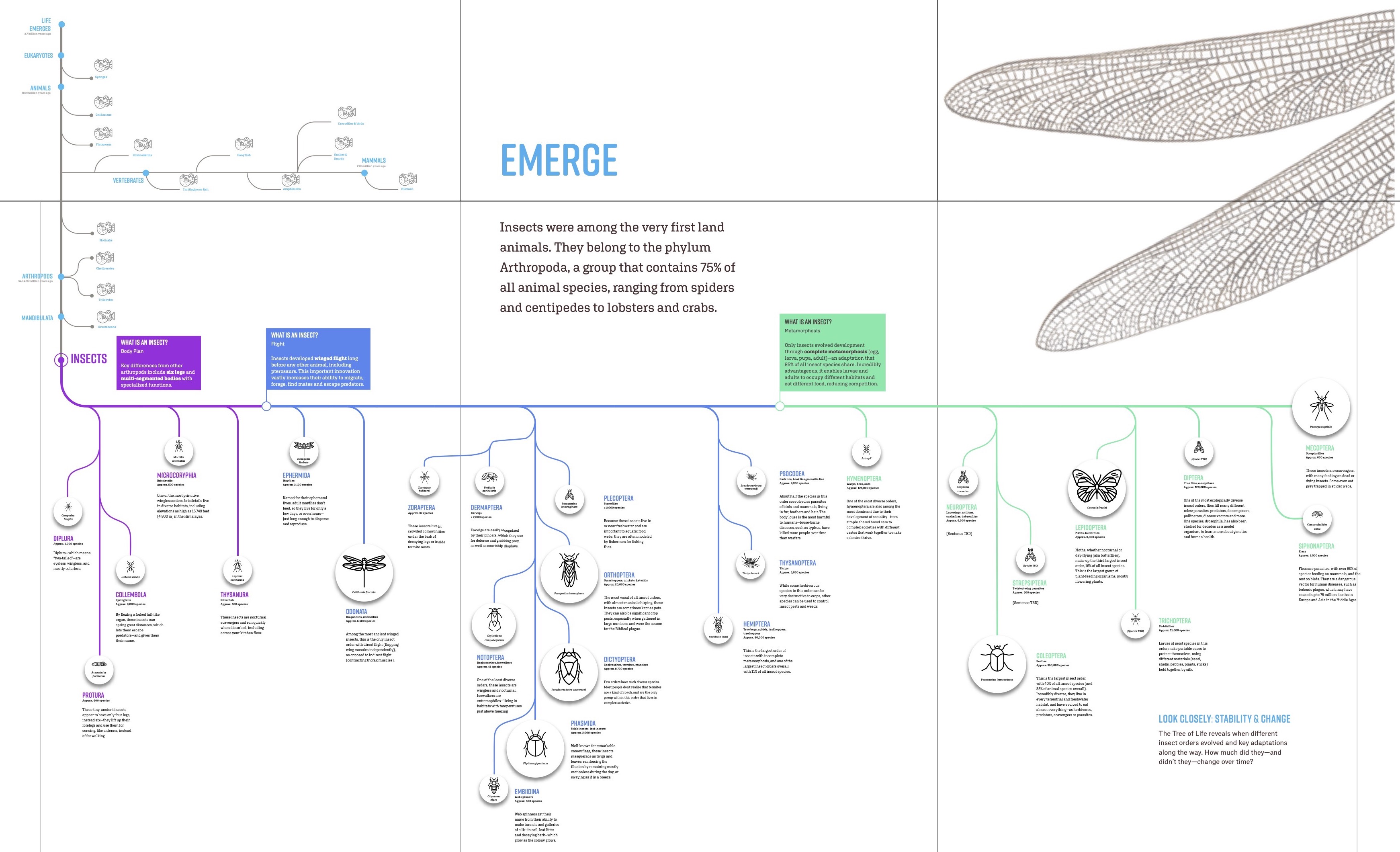 The latest test sample needed to fit within a paneled wall with three glass doors. I compressed the earlier evolution branches to put the biggest focus on the specimens and organize them to eye height.


Test of one of the hundreds of labels for the live insects



Studies for ID labels for the 80+ butterfly species in the new Vivarium



Collections Core
The Collections Core is an open-storage display of some of the specimens typically kept behind closed doors. The multi-floor exhibit explores how objects are cataloged and maintained. Additionally, it aims to address museum repatriation, and I was able to do several studies on how to approach ownership of objects.
Tests with callouts examining specific specimens for the fossil, biology, and anthropology sections.
Vinyl studies borrowing text from the Baltimore Museum of Art to examine how to discuss ownership.
---
Credits
Graphics Director: Catharine Weese
Designer: Molly Magnell
Writers: Debra Everett-Lane, Martin Schwabacher
Project Managers: Katherine Browning, Dina Lingus,
Antonia Gabor
VP of Exhibitions: Lauri Halderman
Senior Director of Exhibition Projects: Melissa Posen
Architects: Ralph Appelbaum Associates, Studio Gang Architects